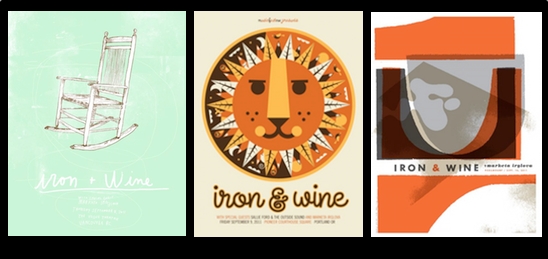 Iron & Wine are getting ready to head out on tour to the northwest and are excited for the limited edition posters for each show created by northwest artists.
Lindsey Hampton from Vancouver, Dan Stiles from Portland and Jeff Kleinsmith (Patent Pending) from Seattle each designed a poster for their respective city's show. The posters will only be available to purchase at the shows. 
Iron & Wine are giving away one of each of these limited edition posters to a lucky fan at each show! 
To enter - send an email to iwgiveaway@gmail.com with the subject line that corresponds with the show you are attending : 
"Vancouver.Poster" for Vancouver Poster
"Portland.Poster"  for Portland Poster
"Seattle.Poster"  for Seattle Poster
Please also include your full name in the email.
Prize posters will only be available for pick-up on the night of show; shipping unavailable - so you must be present at show to win. Contest is for poster only -  travel and tickets to show are not included.
If you don't have your ticket yet, they are still available to purchase in advance HERE.
Last day for entry to win a poster is Tuesday, Sept 6, 2011.
Winners will be notified via email on Wednesday, Sept 7, 2011.
Thanks for the support!